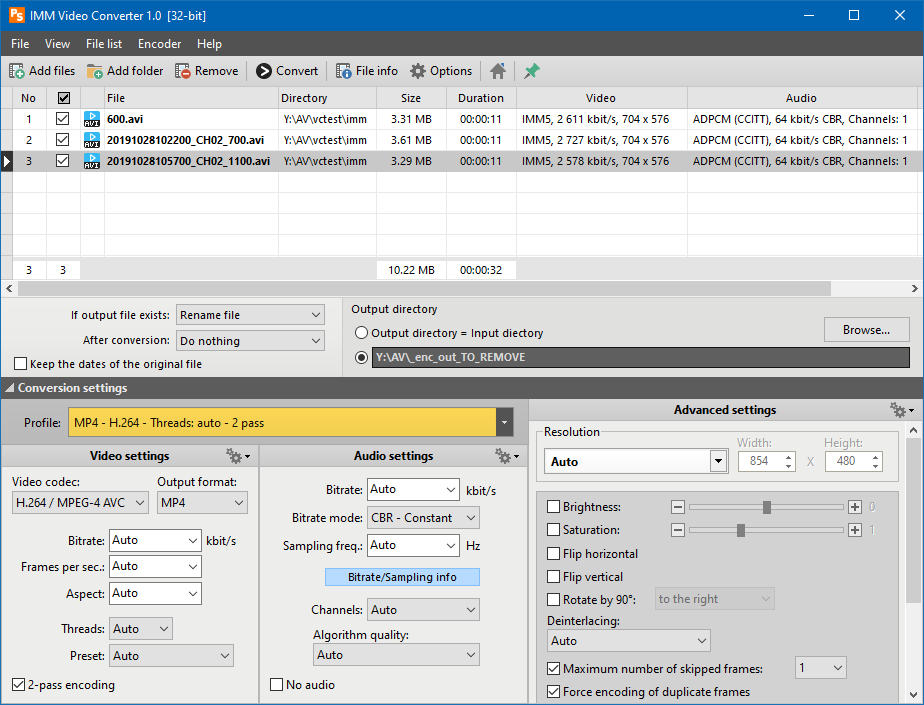 Video converter that converts files encoded with IMM video encoder to AVI and MP4 format.
1.0
2019.12.04
English
Freeware
Windows XP, Vista, 7, 8, 10
6,132
Description
IMM Video Converter is a specialized video converter enabling the conversion of video files encoded with IMM encoder to AVI and MP4 format.
The IMM encoder is commonly used by video recorders used in monitoring systems. To play such files you need dedicated players, often very limited compared to popular video players such as VLC, GOM Player or PotPlayer.
IMM Video Converter allows you to convert such video files to AVI and MP4 using very popular video encoders: Xvid and x264. To convert audio tracks MP3 encoder is used.
After conversion, video files can be easily played in any modern video player.
The most important features
Converting video files encoded with IMM video encoder (IMM4, IMM5 and IMM6) to AVI and MP4.
Supported video encoders: XviD and H.264 (x264).
Supported audio encoders: MP3 (Lame).
Support for multithreaded encoding using the H.264 video encoder.
Support for all H.264 video encoder presets.
A number of predefined conversion profiles. The ability to create your own conversion profiles saved in INI files.
A large number of encoding parameters: audio and video bitrate, fps, audio channels and sampling, resolution, brightness, saturation, rotation, deinterlacing and more.
Possibility of 2-pass encoding to increase the quality of the resulting video file.
The ability to save the encoder commands in a BAT file.
The program is portable: it does not use system registry and all settings are stored in INI files. The program can be copied to an external disk and run on another computer without any installation.
100% freeware! – for private and commercial use. The program does not require registration, there is no built-in limitations, does not add to the generated files "watermarks", etc.
How to uninstall?
IMM Video Converter application is distributed in the form of archive and does not require any special uninstall process. To uninstall it, just delete files previously extracted from the archive.
End User License Agreement
This program is completely free. You can use it without any restrictions, also for commercial purposes.
3rd party software
Open source projects / components used in the program:
Changelog
Version 1.0 (2019.12.04)
Initial release.
Previous versions
IMM Video Converter 1.0
32-bit
Release date: 2019.12.04
File size: 18.2 MB
SHA-256 checksum: 1e458187b53632146c023e58dd42bb33a9ad9382d62a2c2a09e644282028c40a